Yesterday I scouted areas along the west coast Brooklyn for an upcoming trip that included a first stop at Bush Terminal Park and the Army Terminal. For the date , a fine list on my off day.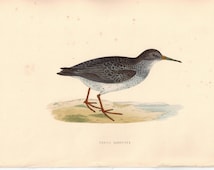 When I arrived and passed thru the main gate of Bush, I heard croaking. The loud guttural call of the COMMON RAVEN came from the large corvid flying zigzag over the concrete pier. A pretty close bird and a great start to my tour.Immediately after, when I scanned the waters ,I found the hen COMMON GOLDENEYE at the end of the concrete pier (with the walkway path). Also noted were two Drake GREATER SCAUP in their brightness in the Inlet ( or my denotation inlet #2).
When I walked the concrete pier, another unexpected though common water winter species. Inside the outer impoundment pool, a single HORNED GREBE took advantage of the sparse duck population there. And why? Because the GADWALLS and some WIGEONS were on the rock jetty walls. The Gadwalls camouflaged so well with the similar colored rocks and seaweed that I didn't spot them right away. I included a digiscope shot below of the Gadalls, a nice pose of the cooperative couple in their best camouflage.
Further on, to the West Cove, the scaup and BUFFLEHEADS take center stage. A count of 74 LESSER SCAUP and 88 BUFFLEHEADS with at least 12 GREATER SCAUP crowded the cove. Gulls were all around but nothing special. I left Bush Terminal with ten species duck,a good number for a little spot of 60 acres.
The Army Terminal pier 4 with crowded car park ( for the ferry) didn't reveal much water life. But I guess the GREATER SCAUP dominated the site with 105 birds seen.So they got this spot with Lessers having Bush dominance.
Afterwards, when I stopped by Owls Head on my time constrained schedule, I found one species of note.I hope the PURPLE SANDPIPERS stick around, the 5 I saw on the jetty wall protecting shore path south of the Veterans Pier (68th st),at the seventh bench mark. There were no issues of disquise as the bird were right below me, a fantastic view of the sandpipers just 15 feet away, above crashing waves hitting the boulders they fed on.