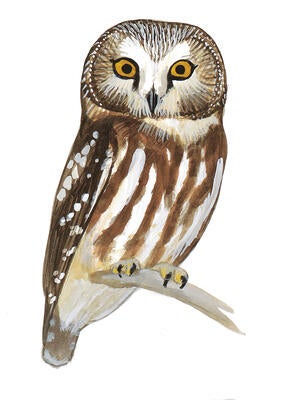 The miserable weather of snow,sleet then cold rain tested the mettle of my South Prospect team.But we all hung tough despte wet fog up binoculars, soaked clothes, very wet gloves, ,glasses and anything else susceptible to ugly precipitation.But I couldn't be prouder of the group that hung in and found some good birds.
Not to make too much hay of it, my team did really well despite the tough conditions. And thanks to some sharp eyes in the group ,including myself. Sean Zimmer found COMMON YELLOWTHROAT in Three Sisters Island cove; also Sean's find was WINTER WREN ( only bird in count) atop Lookout Hill). Matt Beck was among the split off team finding flyover SNOW GEESE ,two dozen over the Lake, a wonderful observatioñ of bright white in the heavy overcast skies. Karen O' hearn finding the lone RINGNECKED DUCK I somehow missed.But I found the highlight just before lunchtime at the zoo.
In a hurry to get out of the rainy misery, we what was left of us, stopped at a spot for an owl check. Raindrops a sure hindrance, I scanned the tree and after several binocular sweeps, saw an interesting ball that I thought was a paper wasp nest. Taking my very fogged up scope that I wiped the optics with a napkin ,a closer look revealed the ball to be an owl. A pudgy squat owl. After studying the turned away owl, looking carefully at its back,the consensus was NORTHERN SAW-WHET OWL.The find was the great reward for getting out in miserable weather to do a job,and the group immensely delighted forgetting the crappy weather impact on their pysche.
Please note as a rule,I don't post owl locations ever on this blog.My concern is the Owls welfare given the stress they are going through in harsh winters and migration.The same for any emails I receive I will ignore.If I happen to be in Prospect birding,I likely will be generous and judicious who I tell.Its unfortunate but sometime bad owl etiquette and behavior is observed.I expect the same from other birders.
Finally a word of appreciation for my group: Sean,Alexis Clements for her great help writing down all the sightings with rain soaked pages,Matt,Karen, Kathy, Ryan,Angie,Adam, Lexi,& Louis. The group's good spirits and upbeat attitude makes a world of difference and my job easier and fulfilling.
I will post later the preliminary count tally tonight.