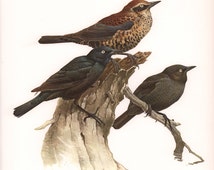 Some good birds to report in our three local green spaces : Prospect , Brooklyn Botanic Garden and Greenwood Cemetery.
Topping the good list, a rare
LARK SPARROW
was found by Bobbi Manian at Greenwood's Sylvan Water.
Over at Prospect Park on the Thursday BBC walk , the last for the season, Tom Stephenson tweeted
WHITE CROWNED & PURPLE FINCH
at Lamppost 249 or the Well drive picnic tables.also noted , a drake BLUE WINGED TEAL in the Lullwater by the group.
And lastly farther east in the Botanic Garden, Chris Elliot reported
RUSTY BLACKBIRD
in the native flora section , in the kettle pond.
PIED BILLED GREBE made its appearance in Prospect Lake today according to Karen OHearn
It gets better usually thru the rest of the month into November; so still good boiding to go.