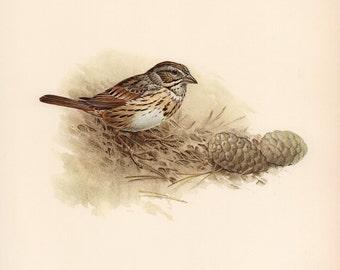 A fair birding day today with the north wind bringing in a decent infusion of birds. Most notably some sparrows in a few pockets and dispersed warbler activity with a good supplement of different quality species.
First with the sparrows, there are three locations that had a few number of birds. At the phragmite edge opposite the Wellhouse, Linda E watched SWAMP,SONG,LINCOLNS and WHITE CROWNED SPARROWS.From there,a 1000 foot rise to Butterfly Meadow, Paige L. reported a rare sparrow -CLAY-COLORED among SONG, LINCOLNS and WHITE CROWNED. Of the two spots, I was happy enough to get the smooth looking LINCOLNS on the south path bordering Butterfly Meadow on my lunch hour. Meanwhile over at Greenwood Cemetery, Orrin Tilevitz also found LINCOLNS and as well FIELD SPARROW.
Ten warbler species are in the bag though information what is vague as I ran into Mary E, Toni and Nancy T. on the Peninsula.But none of the warblers were rare. I on my lunch hour did find a great looking NASHVILLE WARBLER on the west edge of Butterfly Meadow.
Regarding species not a sparrow or warbler, a few nice reports. Best is the MARSH WREN seen or heard at the phragmites across from Well Drive Lamppost 249 , found by Sean Sime. Linda E 20 minutes earlier tweeted out a south bound adult BALD EAGLE over the Brooklyn Botanic Garden;Linda also reported the season's first HERMIT THRUSH, an early bird at that. I saw ROSE BREASTED GROSBEAK on a pokeweed at Butterfly Meadow.And last, Karen O Hearn spotted some distant small ducks on Prospect Lake; based on the photos showing darkish heads and bills, it likely was GREEN WINGED TEALS , 8 birds in all.
Enjoy your weekend boiding.....
and a last note ( even its not Brooklyn and for you Yankee fans) . I just got a 3:25 text message from my NJ cousin who went to the Yankee game today. There was a Marsh Wren on the field during the game..Crazy migration, huh ? I wondered what its batting average?