This morning at 6:50 am as I was about to enter Prospect Park from the 16th Street /Windsor Place access, a quite large raptor, with a longish tail and a sizable wingspan flew over me not more than 50 feet.Dark for me due to the early light , it flew down Prospect Park Southwest Ave for a good fast 200 feet before veering left back into the park.
Because it was sudden and unexpected, I could only gather one or two clues besides the large shape,the wings appearing tapered. It could be a large accipiter, sometimes as they fly past, look falcon like regarding the wings as the raptor manipulates its flight.( I doubt the other species I had in mind, but not saying so here due to its high unlikelihood) . I went down the park road perhaps thinking it perched. No luck as I needed to get to work by 7 am.I can only speculate perhaps it was a Goshawk.Hopefully the bird sticks around for clarification and maybe photos...
Running into a friend whom I won't mention, the source said a non birding friend saw such a large raptor a day or so ago in the park... Yes, it could be the Red tailed hawk, but for me , it certainly was not so this morning.So..a heads up , be watchful.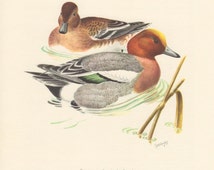 Meanwhile at Bush Terminal park, there is certainty as an old friend from winter 2014-15 returns,
EURASIAN WIGEON
(EUWI) . Reported by Bobbi Manian, maybe the rare duck will "winter-rise" for awhile . :).
SURF SCOTER
is also being reported there as well, though most times its not within the coves.Both species nevetheless very good finds here.
The Prospect
BLACK-HEADED GULL
continues today , according to the Ebird Trax report.
*********************************************************************************
Subject: Brooklyn bunting & gull
From: Rob Jett <
citybirder@earthlink.net
>
Date: Wed, 30 Dec 2015 16:17:06 -0500
X-Message-Number: 3
Both the Painted Bunting and Black-headed Gull were present in Prospect Park this afternoon. The bunting was found napping on a branch at the base of a dense patch of wildflowers. It eventually became active, feeding mostly in the leaf litter at that section on the north side of the rink.
The gull was primarily on the water at the west side of the lake. At one point it took off towards the southeast shore where someone was feeding the swans, geese and gulls bread...hopefully a healthy multigrain choice.
Good birding,
Rob