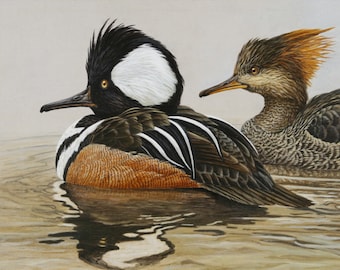 Two of the three eastern US merganser species was present on Prospect Lake this morning. For this hardy veteran birder,that's a cool thing to see.
As I scanned the West Island cove , first I spotted the hen RED BREASTED MERGANSER. About five minutes later, the Drake appeared with this hen.In between the split sighting,among the Canada Geese horde along the south shore by the island, the HOODED MERGANSERS snuck into my view. I was vainly looking for the third species but alas no to complete the triple. ( that has happen recently maybe two winters ago here)
Otherwise it was a quiet walk. However my not expecting it, diving in front of Music Island, a hen BUFFLEHEAD made an interesting sighting for my morning list.
The RED BREASTED NUTHATCH continues to hog the feeders.But later more interesting and certainly out of season bird, Dan Frazer reported a hardy GRAY CATBIRD at the base of the slope trail that runs by the feeders. Also observed was a leucistic AMERICAN ROBIN at the same spot.