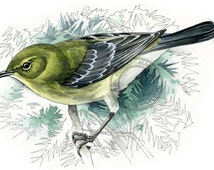 A bit of a
PINE WARBLER
flurry in both Greenwood Cemetery and Prospect that dispels the latest cold snap hold on overall bird migration. Unseasonable cold temperatures didn't stop Pine Warblers as slow birding was evident today.
Matthew Wills' debut leading the GW Cemetery Brooklyn Bird Club was successful with 5 Pine warblers on his walk. I'm sure even with 33 species reported by him, those Pine Warblers makes the day for walk participants as the first true and welcomed warblers of the early spring season.
I went out midmorning sleeping a little late after a hard work week. After a few bird sightings ,including a bright
FOX SPARROW
along the Center drive bridle trail,I ventured over to the Upper Pool back view: it's a reliable spot for Pine Warblers. And after a few minutes wait ,one PINE came in and I was satisfied. But wait, a second one came in. Soon, a third PINE joined in ,all three birds in front of me just over the water edge. Off to the shoreline behind the island,three
WOOD DUCKS
rested .
The Lake seems abnormally quiet these days. Except for a decent number of RUDDY DUCKS, just the interesting continuing pair of
AMERICAN WIGEON
were seen next to West Island.
I did see also a high soaring
TURKEY VULTURE
over Nethermead meadow. It took me a awhile to id it with the bright sky and sun next to it.