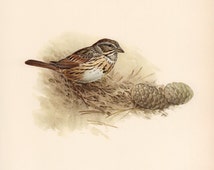 Some mild movement was evident in Prospect, with new warbler arrivals as well as a gorgeous
LINCOLN SPARROW
highlighted the morning.It didn't seem like it was going to be a productive day but it was an above average birding day if you like Yellow rumped warblers with new birds.
Highlighting the best bird, a fantastic close view of a
LINCOLN SPARROW
at the Lower Pool back gate. Feeding mostly in the fragrant Honeysuckle bush, the sparrow was only 10 feet from the back gate. It at times would fly away to the opposite shore but always came back to the bush . Latest report came at 2 pm.
New arrivals regarding the warblers: topping the list ,
WORMEATING
in the Vale Cashmere, followed in other areas ( Payne Hill, Ambergill etec) by
BLUEWINGED, NASHVILLE, PRAIRIE,LOUISIANA WATERTHRUSH, BLACKBURNIAN (3 arches bridge) BLACK THROATED BLUE & BACK THROATED GREEN
warblers were some gems. A typical stroll through the park and run-ins with other birders or even following twitter would help get you these birds.
A note from me. As migration gets into its frenzy period, it gets harder for me to keep up with the texts and tweets as I must work without disruption. ( In fact at mid morning I had to mute my phone) .The same be said if I am off on a vacation day ( or days away somewhere in which case my phone will be turned off), looking to enjoy my personal time. Unless the species is a super rare or highly terrific species which would be retweeted, its best for you getting quick alerts to follow my twitter Kingsboider and my followers you can also follow or ask around other prospect birders if they have twitter
.
Blog reports on my work days will be posted by 330 pm weekdays and in the evenings on weekends .Or check Birdtrax on the left sidebar or the Prospect Ebird checklist link above in the heading to see what species are in. After the migration, its easier to get back into the normal routine. Some sanity must prevail for me.