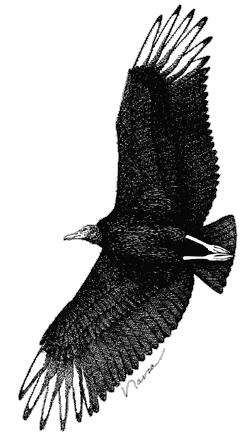 There were some good birds to see in Prospect, a benefit of some southerly wind and air flow. The BBC walk got to see a few of those good ones.
The best songbird was the continuing
ORANGE CROWNED WARBLER
at southwestern Lookout Hill . The warbler was spotted by the BBC walk group led by Rob Bate from the middle path above the Well Drive shipping containers
Otherwise, if raptors ( well actually a scavenger ) pique your interest, a high flying
BLACK VULTURE
drifted over and soared above the Upper Pool around my lunchtime. It eventually drifted northward , high over the Picnic House, its pointed whitish wing diamonds showing well.
The BBC walk group also benefited with sighting of
RUSTY BLACKBIRD
and
LOUISIANA WATERTHRUSH
. Both these species were seen in the Amber gill Pool section and the general area wherever water flowed.On my lunch hour , thanks to Peter Colen's hearing , we refound the Rusty BB at the back shore of the Ambergill, mostly hidden under brambles, flipping leaves.
Otherwise if you love
YELLOW RUMPED WARBLERS & PALM WARBLERS
, they are easily found now;Or guaranteed to intersect those species somewhere.
other birds reported:
WINTER WREN,BLACK AND WHITE WARBLER,BLUE HEADED VIREO in Prospect, LOUISIANA WATERTHRUSH
in the Brooklyn Botanic Garden native Flora section