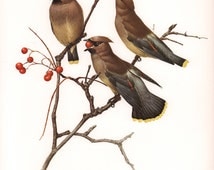 One of my favorite songbirds appeared,
8
CEDAR WAXWINGS
at the weir that connects the two pools. They hesitated abit perhaps seeing me at the fence watching, but eventually they all came down to the water. But being skittish, they didn't stay long , flying back up to above branches and few moments later all taking off in a western direction. A pair of
WOOD DUCKS
could be seen at the north shore of the Lower Pool
Around the back, specifically the Lower Pool back gate, my target bird
PINE WARBLER
showed up. About 100 feet away in the wooded area on the right shoreline, two birds, one was quite bright from that distance.
A last bird of note is the
RED THROATED LOON.
Despite several paddlboats near or close by , the loon refuses to budge, staying brave like an anchor about 150- 200 feet south of the Peninsula thumb.
Aside from this Prospect report,
GLAUCOUS GULL
appeared in Bush Terminal Park according to Gus Keri. Gus posts his video on his facebook page of that the gull is shown.
from ebird yahoo
Thu Mar 31, 2016 1:54 pm (PDT) . Posted by:
On a short walk through Green-Wood this afternoon I saw an Osprey and Kestrel over the Valley Water and a Sharp-shinned hawk IN the water, bathing. Half a dozen Tree Swallows were also overhead, the first of the season for me. A Tuliptree above the Sylvan Water was active with a couple of loud Pine, while a Phoebe, 2 Chipping Sps, a few Juncos, and single specimens of RC Kinglet and Brown Creeper were seen close by.
On the way home, I spotted a Red-tailed Hawk over Sunset Park, which made for four raptor species within a mile of my apartment.
From the borough of raptors,
Matthew
http://matthewwills.com