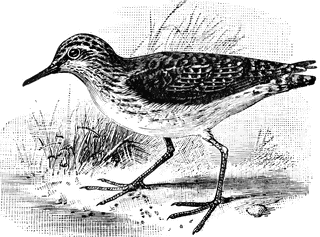 Yesterday's quality day of numbers in Prospect diminished today but instead a couple of good shorebirds as well as a few good warblers salvaged an otherwise slower day.
Today is Prospect's offering of shorebirds. The Lily Pool ( by the boathouse) with its small mudflat treated birders with a wonderful looking
SOLITARY SANDPIPER
working in the water .With its prominent eye ring and darker back, it stood out well from the back water viewing platform. I just received a tweet report of
WILSON'S SNIPE
reported by Kathy Toomey at 1:55. It was seen on the black plastic covering the phragmites inside the Peninsula hand , the cove that last weekend had the Greater Yellowlegs. And then earlier, Karen O'hearn reported about 7
SPOTTED SANDPIPERS
in and around the Peninsula: 2 on the shoreline were joined by 4 more Spotteds flying across the Lake.This day I believe one of the best days for shorebirds in Prospect I remember in a long time.
Some continuing good warblers prevailed. Today's observations included
WORMEATING
,
BLACKBURNIAN
along the south path below Butterfly Meadow,
LOUISIANA WATERTHRUSH
at Lily pool sharing with the Solitary Sandpiper, as well as a
NORTHERN WATERTHRUSH
at the same mudflat.
Other good birds to mention is
YELLOW THROATED VIREO
at Butterfly Meadow; and a hen
GREEN WINGED TEAL
in Prospect Lake.
ORANGE CROWNED WARBLER
continues its long spell.( I presumed its still at Lookout Hill lamppost 249 at the slouth slope , correct me if I'm wrong)