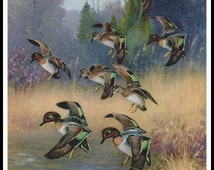 On a day of quiet,almost dud for birding, a Lake species we haven't seen regarding numbers,
GREEN-WINGED TEAL
grew to eight birds today. While on land, a
HOODED WARBLER
registered in, topping the list that included also a few other interesting birds.
Early this morning the Brooklyn Bird Club Tuesday fall walk led by Bobbi Manian and Kathy Toomey spotted the teal flock in the lake middle.I was called while on duty and checked out the flock as well. No neck, small hunkered in ducks impressed upon me Green wings. Later ,in the late afternoon after my work ended,the flock actually moved closer to the west shore; several times some of the birds opened their wings and eventually the whole flock flew towards the shoreline ,revealing their iridescent greenish wing speculum. This is a good size flock for Prospect Lake.
Meanwhile, a report of
HOODED WARBLER
was reported beneath the Terrace Bridge Lullwater ,spotted first by Joe Giunta by the pine grove. In the same area ,the other side of the bridge,on my route home from work, I observed a
GRAY CHEEKED THRUSH
, chipping away; unfortunately ,I am the wrong person it should chip to ( to determine a Bicknells),with my hearing impairment and inability to "beak read ". :)
Another noted bird , a female
WILSONS WARBLER
appeared
in the Upper pool Meadow. But I can't complain about today's bird paucity. Having anyway to go to my hearing aid center for aid repairs at 50 Broadway, I lucked in with the ridiculously tame CONNECTICUT WARBLER on the historic Trinity Church grounds in lower NYC, a stones throw away.
http://ebird.org/ebird/view/checklist?subID=S25136264
Ryan Candee checklist photo of teals.
http://ebird.org/ebird/view/checklist?subID=S25134986