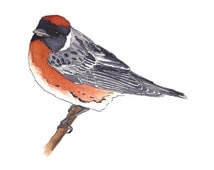 Confidantes and friends know that the only pursuit I do yearly regarding birds is my thirty warbler big year. And when I heard that a Bay breasted Warbler was reported this morning by Ed Crowne's BBC group, I rushed over to the Maryland Monument staircase. No success the first time but a second chance that I almost missed if not for a few s seconds more that I would have been long gone.
After a dental appointment this morning, the late morning tweet from Ed Crowne and Kathy Toomey reported

BAY-BREASTED WARBLER

in the area of the top of the Maryland Monument stairs. But it was also seen at a termite hatch out farther up the mulch trail. I hurried over there but I was too tardy. The only thing at eye level I spotted also spotted by the group was BLACKPOLL WARBLER, a very cooperative bird in a shrub near the top step. So no luck with the Bay, I went back to work for the rest of my planting schedule.
At my lunch hour, it's back to the same location for my second chance. Thereby I found Dennis Hrehowsik and Bobbi Manian at the Maryland stairs;I conversed with them for a good ten minutes with slow birding all around and then left them to walk up the mulch trail for hopeful opportunity. There at the trailhead, I stopped to talk to Eni Falci. Then I heard a shout behind me 30 seconds later: Its Dennis gesturing to me to come quickly. I run over and Dennis shouted "bay-breasted!" I see way up in the giant oak on the south slope of the stairs, as I tried finding the bird, it flew and I muttered some French (I do sometimes). But thereby, the bird flew back into view and moments later in very exposed view, my happiness I got one of these favorite warblers of mine, a BAY-BREASTED WARBLER. ( so Thanks to Dennis for the boid)
The day was slow by all accounts, but Ed Crowne has to be happy getting 14 species warblers for his large BBC group. Also, likely some members seeing it, Kathy Toomey reported a

YELLOW-BILLED CUCKOO

at Lookout Hill's summit.
Independently, Russ Alderson informed me of a few good warblers at Lily Pool. Among the sightings, BLACKBURNIAN, BLACKPOLL and CANADA WARBLER, a target bird accomplished by Ed's group in seeing. Blackburnian also appeared on Lookout Hill.
In other news a rare good bird to note, Rob Bate spotted

BLUE GROSBEAK

at Greenwood Cemetery's Dellwater. I hope to get a photo of the what looks like a juvenile bird.
This is a buildup to Saturday's Birdathon, with Friday a rainy day; maybe Saturday will be good (or great) birding...
Oh...Yes, I did it... 31 species Warblers this year....Bay Breasted number 31....