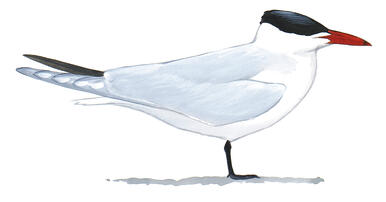 The first verifiable
CASPIAN TERN
( according to Cornell Ebird) to re
turn
to Prospect Park since 2004 occurred this early afternoon over Prospect Lake. Observers Linda Evans, Karen OHearn and Chris Laskowski watched the big tern hunt over Prospect Lake. Rob Jett after getting the tweet rushed down from Lookout Hill south to get the bird as well. A terrific sighting for Prospect that doesn't happen too often ( i.e.12 years ago) , most times missed or not identified.
While the Tern got most of the attention, Prospect finally got its
HOODED WARBLER
this morning. Linda Evans reported the gorgeous bird in the vicinity of Ricks Place. A later search proved nil on my lunch hour nor by other birders searching. The woods surrounding Ricks Place is thick and closed off so the bird could be there.
I will be out of town birdcation ( or bird Vacation) for next two days. Blogging posts if I can access a computer will be in the evening.Unless its a fantastic report, I will not retweet.Otherwise please follow my twitter followers to BBCKINGSBOIDS ( link on the side blog).
Enjoy the lovely weather ! ( but bad weather brings out the best birds they say)
Recs